Thanksgiving Thoughts from Kari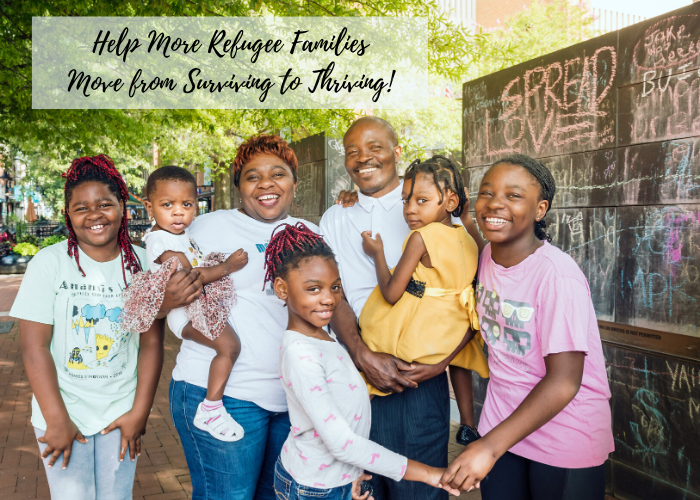 Dear Friends,
As I write this, it's the Tuesday before Thanksgiving, and many of us are already traveling to be with our families or preparing to receive them at home. It's a time of mixed feelings. We're filled with happiness at the thought of being with our loved ones—and perhaps even to meet a newly arrived niece, nephew, or grandchild! We might also feel anxious: Reuniting with family after a period of separation can be stressful, as I'm sure I don't have to tell you.
But regardless of the logistical difficulties, we go to great lengths to be together, to renew our bonds, remember our shared past (with laughter and tears!), and to reaffirm the fundamental importance of family. Those of us who are able to participate in this ritual are extremely lucky. Many of our neighbors—displaced from their country of origin, abruptly and sometimes violently disconnected from their families—simply do not have the option to be with their wider circle of loved ones. I feel for these neighbors always, but especially at this time of year. The contrast between my life and theirs is stark. Talk about mixed feelings! I am humbled and grateful, sad but hopeful.
Whatever else Thanksgiving symbolizes, and despite its dubious origins as an American tradition, it is essentially about belonging—to a community, a network of friends and family.
In Charlottesville, we are especially fortunate to live in a vibrant global community. I can go around the world in one neighborhood, visiting with families from Afghanistan and Congo, Syria and Tanzania. I founded International Neighbors in 2015 because I saw that our refugee and SIV neighbors are suffering in our midst without this network of support. We have abundant resources available in this city and I knew that, together, we could help. The four years since then have confirmed my belief that we are stronger and better off when our cultures connect, and when neighbors help neighbors.
This is fundamentally what International Neighbors is about. It is about you, and what you contribute. It is about us—what all of us can do together, the kind of community we can be. In this time of social divisiveness and turmoil, we must remember the power of being Great Neighbors to all.
Happy Thanksgiving!