Meet the Dream Team Leading IN's Learning Pods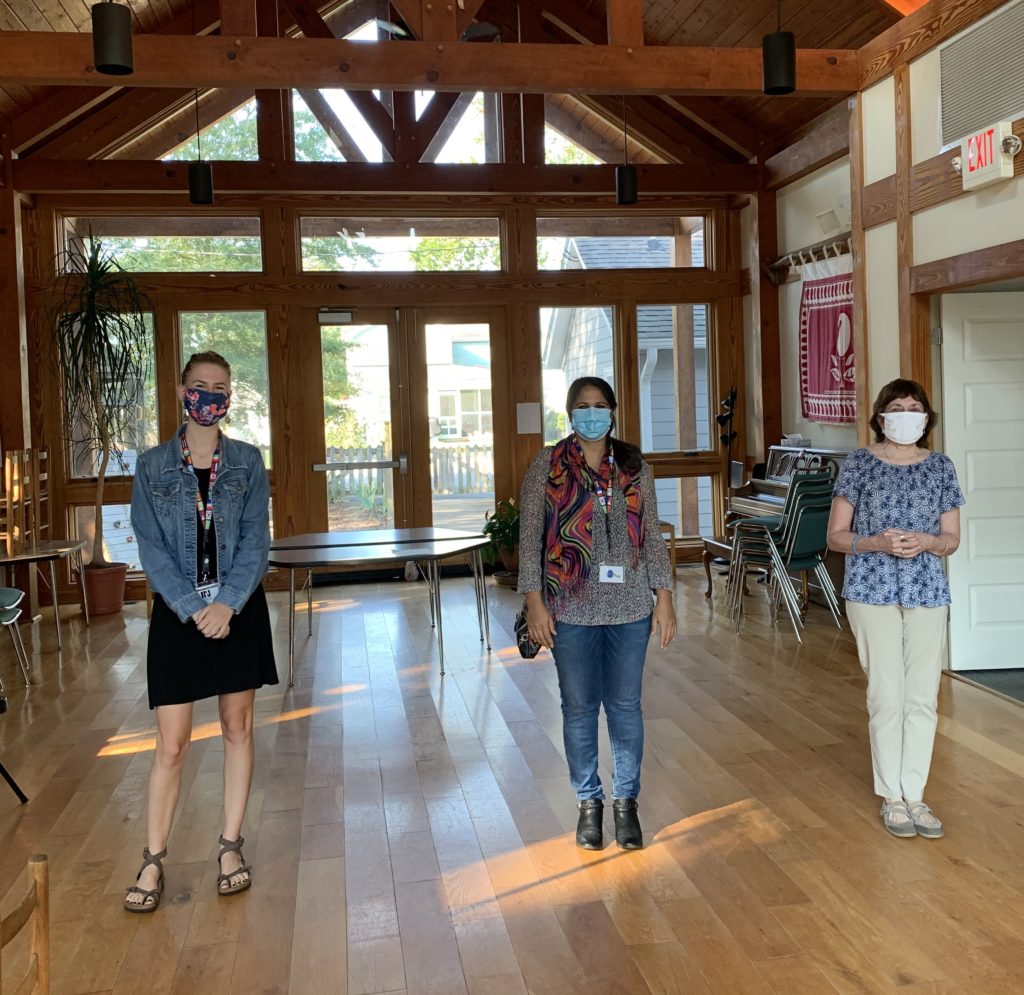 The "Dream Team," (L to R) Marina Miller, Shahida Parveen, and Susanne Sachs, prepare to set up learning pods in the beautiful space donated by Charlottesville Friends Meeting House.
We are excited to introduce the accomplished group of women who will lead IN's learning pods for English Language Learning (ELL) students—two pods of six students in the beautiful space donated by Charlottesville Friends Meeting House, and one pod of six students at the IN House—starting September 14th!
ELL Guide Marina Miller is a recent Yale graduate who majored in political science and international development. Fluent in French, Marina spent a summer working in a refugee camp in Uganda. She will be working with 3rd and 4th graders at Friends Meeting House.
ELL Guide Shahida Parveen is originally from Pakistan, and is fluent in Urdu. She taught primary school in Pakistan, and has four children here in Charlottesville City Schools. She will be working with K-2 students at Friends Meeting House.
ELL Guide Robabeh Hosseini, (not pictured) originally from Afghanistan, is fluent in Dari and Farsi. She ran a refugee school for Afghan children in Iran for 11 years, and returned to Afghanistan to be the principal of a girls' school for two years. She arrived in the U.S. in February, with her three teenagers, and is still practicing English. Robabeh will lead the learning pod at the IN House.
ELL Learning Pods Supervisor Susanne Sachs worked in Albemarle Public Schools for 15 years with homeless, migrant and ESL students. She will provide support for all three learning pods and help foster connections with the families.
Funding for IN's three learning pods, including staffing, was provided by a $25,000 grant from the National Parents Union to provide remote learning support to 18 ELL students this semester, through November 6.
We are grateful for the opportunities this grant brings, but we also realize that it's just a starting place for helping our refugee families have more equitable access to public education while classrooms are virtual. Learn how you can help support refugee students by contributing to the Access and Equity fund.