Join IN's #GivingTuesday Crew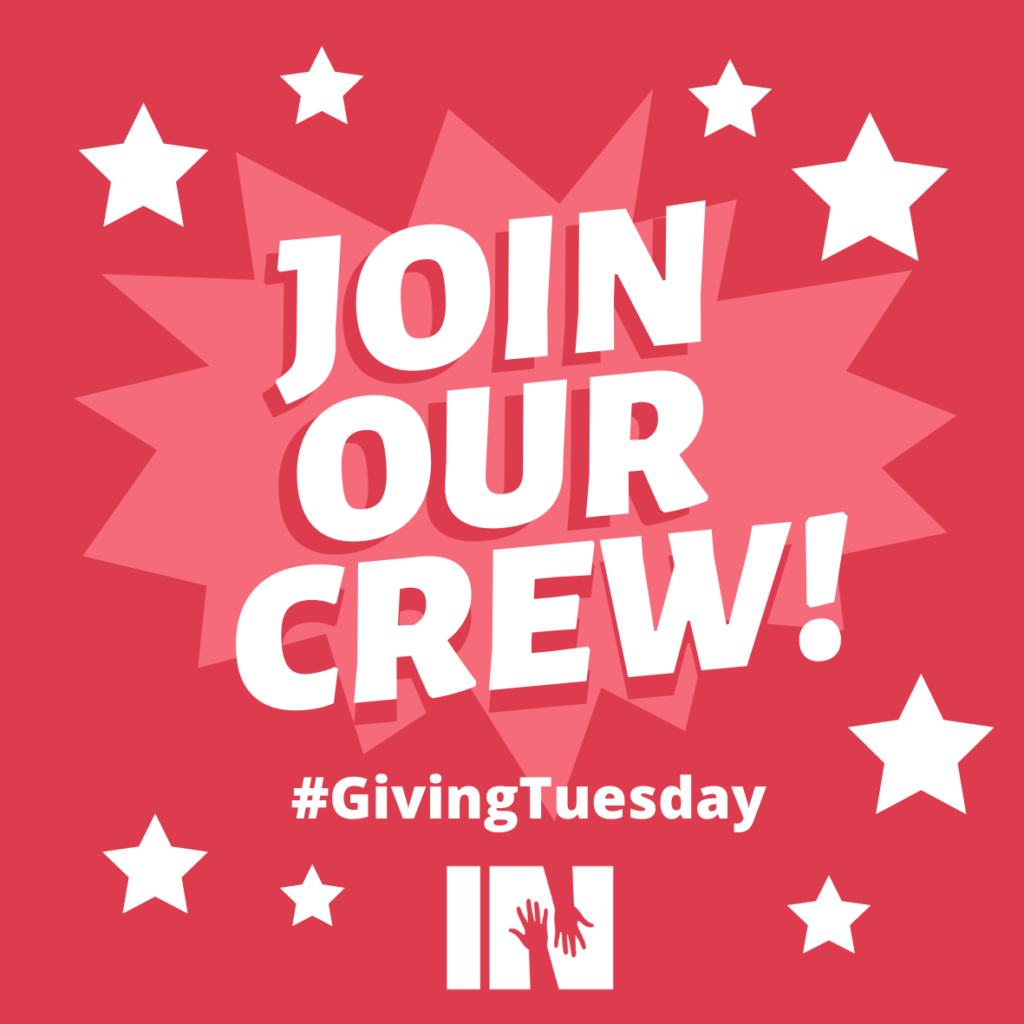 Giving Tuesday was launched in 2012 as a simple idea: to create a day that encourages people to do good. Over the past seven years, this idea has grown into a global movement that inspires hundreds of millions of people to give, collaborate, and celebrate generosity.
For many nonprofits, including IN, Giving Tuesday is also one of the biggest fundraising days of the year—emphasis on FUN!
This year, we've come up with 5 fun ways you can show your support for IN on Giving Tuesday:
1. Help us get a matching funds donation from Facebook by making a donation to Kari's Giving Tuesday Facebook Fundraiser for IN between 8 am – 10 am ET on Tuesday, Dec. 3rd.
Why this specific timing? Well, Facebook is making the matching funds available for donations coming in via Facebook starting at 8 am on Giving Tuesday on a first come, first served basis until a cap of $7 million in donation matches is reached. According to the National Center for Charitable Statistics, more than 1.5 million nonprofit organizations are registered in the U.S. So, we expect that all of the matching funds will be claimed pretty quickly!
Think of it as sort of a "fun run" sprint to start off the giving season. Help spread the word to friends who might want to help us get a running start. You can find more information about Facebook's Giving Tuesday Matching Funds here.
2. Start a Facebook Fundraiser. If you're feeling really excited about the possibility of helping IN get matching funds from Facebook, consider starting a Facebook fundraiser on IN's behalf. You can find out how to do that here. Remember to tell your friends that Facebook will match their donations that are made on Giving Tuesday starting at 8 am, and that we should act fast before that $7 million cap is reached.
3. Share an #Unselfie on Facebook, Instagram, or Twitter. The #Unselfie has become a Giving Tuesday tradition. Here are the steps involved: a) Print out IN's #Unselfie sign (download PDF here). b) Take a photo of yourself holding the sign. c) Post your photo to the social media accounts you use. In your post, describe the reasons you are a #GreatNeighbor and why you support IN.
4. Read IN volunteer Deborah Jackson's #MyGivingStory, vote for it and share widely. The top 20 Giving Stories with the most votes will be in the running for a $10,000 grant from Giving Tuesday and the Bill and Melinda Gates Foundation (among other prizes). You can vote for her story (and any other that strikes your fancy) once a day from now until Dec. 10th.
5. Submit your own #MyGivingStory. The deadline for submissions is 11:59 pm on Tuesday, Dec. 3rd. The 4 nonprofits with the most stories submitted on their behalf will be eligible for a $2,000 prize. Find out more here.
6. One more thing: Have fun! And be sure to tag us in any social media posts you choose to share, so we can join in on the fun, too!