Amy Long: Overcoming adversity with love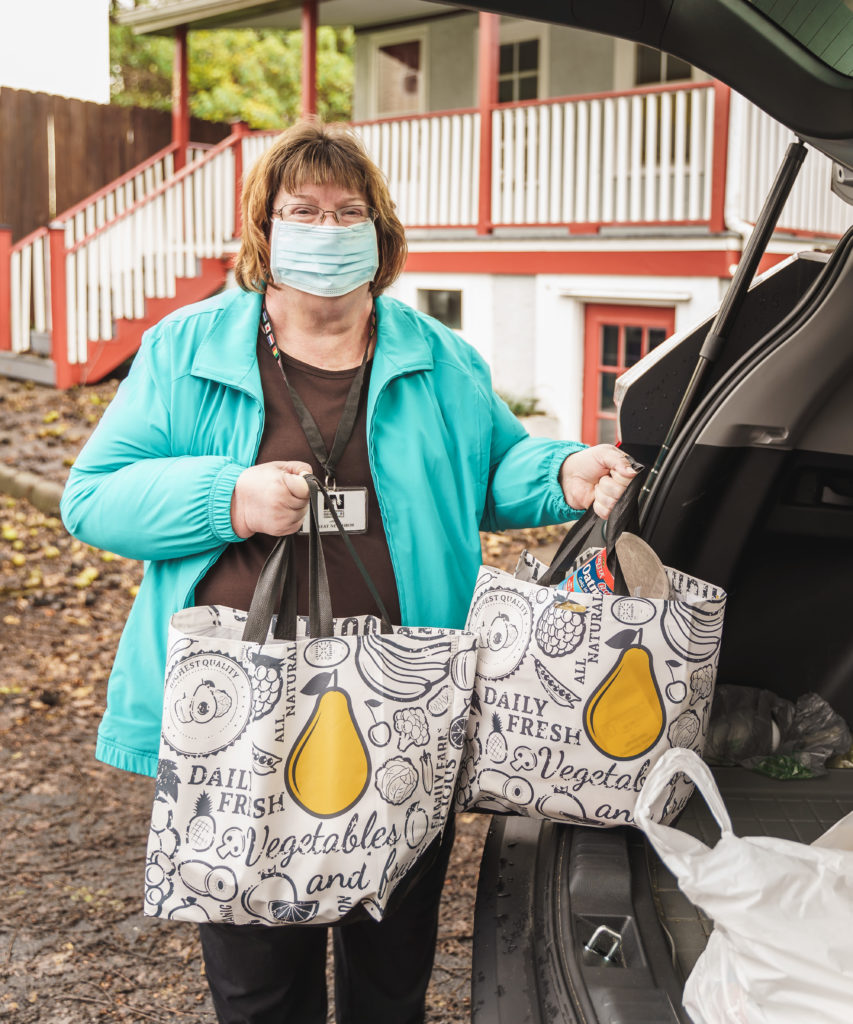 Amy Long (pictured above) is one of the special people we call Great Neighbors. 
A few years ago, Amy learned about SIVs living in Charlottesville—people who had served alongside our military in Iraq and Afghanistan who were no longer safe in their country and were granted Special Immigrant Visas to come live in the United States. 
These incredibly brave men and women captured Amy's attention—and her heart. She learned that they arrive here with few possessions, and are often unable to find affordable housing or adequate jobs. She also learned that most lack access to basic necessities like food and clothing and that, without reliable transportation, it is difficult for them to get the things they need.
And so, for four years, Amy has volunteered through IN, devoting herself to helping newly arrived refugee and SIV neighbors gain access to life's essentials. She regularly drums up donations of needed furniture or clothing items through her network of friends and on neighborhood message boards. She has also offered neighbors rides to the food pantry on most Saturdays.
When COVID-19 complicated in-person volunteer activities, Amy searched for a safe way to continue to help. She found it with a little-known opportunity to serve as a proxy for neighbors at Loaves & Fishes Food Pantry, which she explains in this beautiful video produced for IN by Gentry Faith Films.
Amy's generosity and commitment to serving Charlottesville's SIV and refugee community exemplifies the spirit of International Neighbors. Because of her—and, importantly, because of the monetary donations that so many of you have made—our organization continues to serve our neighbors in need in the midst of a global pandemic. That need has grown, and having the means to address it is more desperately important than ever. We are literally fighting for our lives, and the lives of the people we serve. And, at this time, during our 2020 Annual Fund Drive, we humbly request that you show your support.

One last thing we'd like to share about Amy: She's a wonderful storyteller, and has shared some very meaningful stories about the neighbors she has come to know as a volunteer for IN, and the ways they have inspired her. We think Amy's stories will inspire you.
A Bed for Baby
Four years ago, I was notified on my Nextdoor Neighbor site that there was a refugee family looking for a used bed for their baby that was due the next month. The information was posted by a retired military neighbor, and he was seeking just this one item for this young family. In his request, he further explained that the father had been one of the many people that had worked alongside our military in Iraq, and that the family was fairly new to the United States.
My heart just went out to this family. This need spoke to me on such a fundamental level. They were new to the United States and expecting a new baby, and all they were asking for was a used baby bed? How could we not give them so much more than that, when most of us have so much? The young father had been willing to help our military in his home country. I saw the pictures of him in combat gear sitting with our troops. This family deserved anything and everything we could possibly get for their expected child. This young father and mother were so very brave to come here and start their life anew.
I decided to take a risk and ask some friends and co-workers for any donations toward the purchase of a new small crib that they had indicated would be a great wish to have. To my delight, I was able to obtain the money for this in about 15 minutes. It was worth the risk to ask! My neighbor who had originally made the request was so surprised when I took him the money that afternoon.
There's more to the story: While out shopping at a local big box store about three months later, I saw the family, whom I recognized from pictures. I introduced myself, and saw the baby for the first time. They were so appreciative and thanked me for coordinating the purchase of the crib. They were all doing well, and the child was beautiful!
I think there is so much more to this story than just getting the money together for a place for a child to sleep. It is about how one small act of very intentional giving from a group of people can help a family and welcome them to a new country. So, even though it was very personal to me to help a new baby, I believe it has helped many people to see how they could help a new family who had first helped us in a far away place. So, I say thank you to AJ and his family for having first helped us and for giving me an opportunity to give back to him in a small way.
Socks, Part One
Several years ago, I learned of a refugee family in downtown Charlottesville that needed donations. They were a young couple that had five children. The father was waiting to have surgery to repair damage from being tortured. That's right, tortured. I came face to face with the physical aftermath of the horror this man had been through. I shook this man's hand, profoundly aware that it had been perforated by a gunshot and his fingernails pulled out.
I hoped I would be able to get them something that would make their lives a little more comfortable. I was able to get them quite a few donations of small furniture and clothing and shoes. One day, when I was dropping off some goods, one of the young sons was playing nearby. I asked him what I could get that he needed. He was quick to answer, "socks." I said, " Socks?" He said "Yes, two pair. One for playing in and one to wear to school." All he could think of was needing two pairs of socks. That was enough. He did not ask for an entire new wardrobe of clothing and shoes. He just wanted the two pairs of socks.
The next time I went to their home I filled his arms with pairs of socks.
Socks, Part Two
While delivering some donations to Friendship Court about one year ago I met with a young Afghan mother that I have known for several years. She was so happy to tell me that her aunt had come to the United States and wanted to know if I could get her some donations as they only had a few suitcases of clothing with them from Afghanistan. I went to meet with them briefly and came away in awe of the experience.
They were a family of five. The aunt had just lost her husband to cancer a few months prior and was here with four children ages 12 to 18. They were staying with the niece, her husband and their four children. Eight children and three adults in a 3 bedroom apartment. It was very cramped and busy with so many in one place. They were happy and excited to finally be here. Then, slowly, I learned their story….
For fourteen years this sweet Afghan lady had helped our military. Her oldest son showed me letter after letter of commendation from our military. There were 8×10 photographs showing her with our troops in combat gear. She was a Woman's Commander and had gone out on night missions with our troops. She was proficient in five weapons. She was a warrior!!! I also learned that when the oldest son was six months old the then young couple rode horseback for three days to get away from the insurgents.
After helping for so many years, and her husband passing away, she made the decision to come to the United States. She had the appropriate visa status and the paperwork completed and bought her tickets. The day they were scheduled to leave, her 16-year-old daughter had emergency surgery for appendicitis and was in recovery for a short time. Then they went straight to the airport for the flight to Washington, D.C. Upon arriving in the United States, they immediately went to the local emergency room as the flight had been very hard on her daughter.
They were hoping I could get them household items so they would not need to spend their allotted "Welcome Money" on new items. I asked myself, "Do I have time to take this on at this most busy time of year?" Then my next thought was, "What better way to celebrate the Christmas season? Wasn't this exact situation what it is REALLY about?"
I did not know where to start. So, I asked the eldest son what they needed the most at that moment (besides everything). He answered, "Socks." "Socks?" I thought. "Really? Socks?" I wondered why, of all the items he could possibly ask for, that was the one item that they needed. Then, I realized: their feet were COLD. They had been through so much just to get here and all they were really asking for at that moment was warm socks.
I went home almost in tears wondering how I could help this dear, sweet refugee family that had already given so much to us by working with our military, and all they had been through. All they wanted at that moment was socks. So, I started emailing friends and picking up some promised donations the next day and took them to this deserving family. Included in the bags and bags of offered items was a shoe box full of warm winter socks, enough for the entire family.
.