Response to the travel ban expansion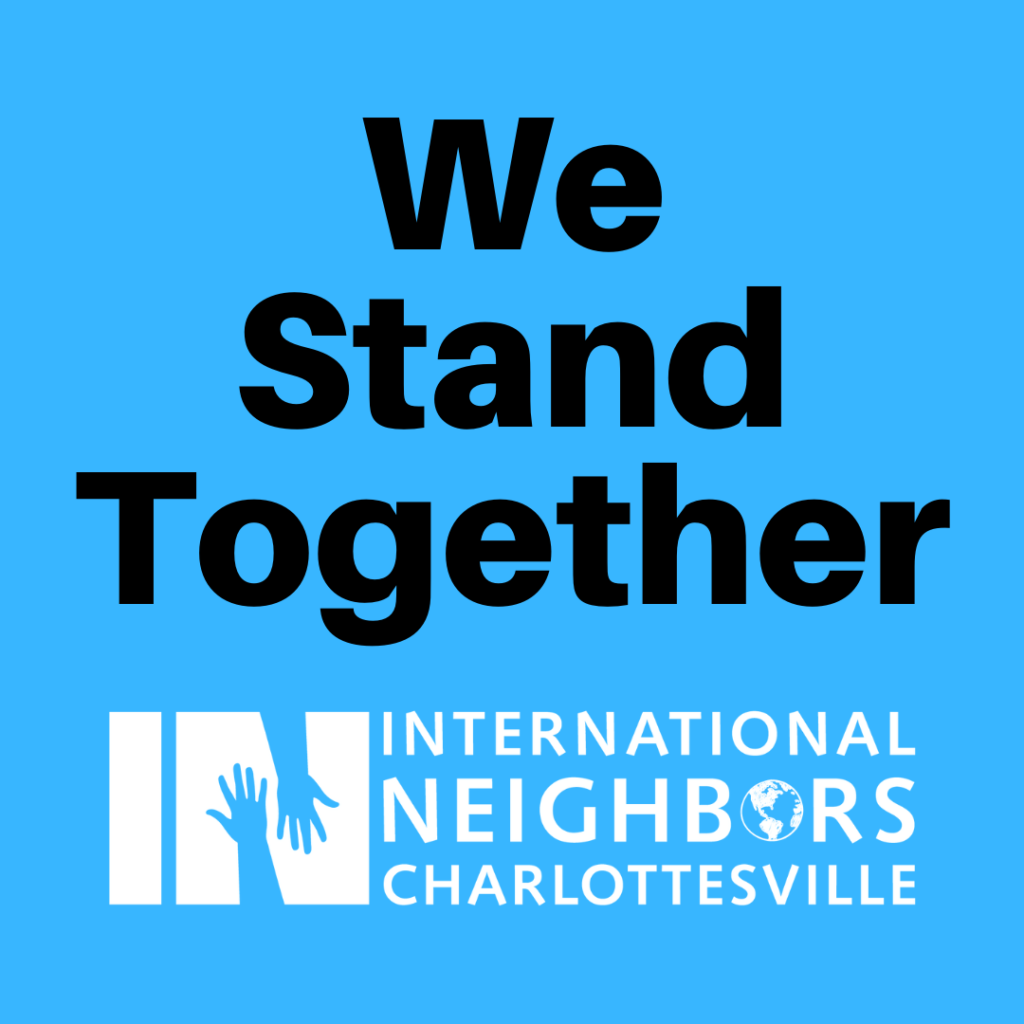 International Neighbors joins members of the Hello Neighbor Network, a cohort of nine community-based refugee support organizations across the U.S, in releasing this joint statement responding to the expansion of the travel ban, which went into effect on February 21.
On January 31, 2020, the Trump Administration released a statement to expand the ongoing travel ban, placing new restrictions on six additional countries. Immigrant visas will be suspended for citizens of Nigeria, the most populous country in Africa in addition to visa suspensions from Myanmar, Eritrea and Kyrgyzstan—while people from Sudan and Tanzania will be barred from the U.S. diversity visa program, which awards green cards to immigrants. While the additions to the original travel ban do not affect refugee arrivals from those countries, they further contribute to a fearful narrative for refugees and immigrants, and impact reunification of family members for those living in the US.
This order came within days of the three-year anniversary of the Administration's original ban, a contentious executive order that restricted travel from several majority-Muslim countries. Along with this original ban, we have also seen declining admissions of refugees into the United States, with 2020 expected to have the lowest number of refugee admissions since the U.S. Refugee Admissions Program (USRAP) was created in 1980.
Offering refuge to those fleeing violence has long been a non-partisan humanitarian priority in the United States. In 1947, the U.S. helped draft the Universal Declaration of Human Rights, which states "everyone has the right to seek and to enjoy in other countries asylum from persecution." The U.S. is also a signatory on the 1951 UN Refugee Convention and 1967 Protocol, a commitment to ensure that the rights of refugees are respected and protected.
We are deeply saddened by yet another move to restrict families from equal access to safety, security, opportunity, and the ability to stay together.
This is not a political issue. It is a human issue.
Bans have serious implications for families around the world and here in the communities we serve. It is a further push toward isolation—for those seeking refuge within our country's borders as well as those who have already resettled in the U.S.—the exact endemic that International Neighbors and our partners in the Hello Neighbor Network are working to combat.
As a network of nonprofits dedicated to supporting refugee families seeking a safe haven in communities across America, we are not losing heart. Together, with thousands beside us, including staff, donors, volunteers, board members, the families we serve, our allies, advocates and ambassadors, we stand in solidarity with all those who work to soften the landing of refugees and remain committed to advocating for the vulnerable, the oppressed and the suffering, regardless of their faith or where they come from.
The work we are doing now in our communities is more important than ever, and we, as neighbors, are not going anywhere.
International Neighbors and our partners will continue to work to improve the lives of refugee families within our communities and be a leading voice in the effort to keep America a nation that is free and welcoming to all, regardless of race, religion or national origin. And we are calling on those who oppose all forms of discrimination and are inspired to make America a place of welcoming, to join with us. We need you here.
Signed,



Kari Miller
Executive Director and Founder
International Neighbors