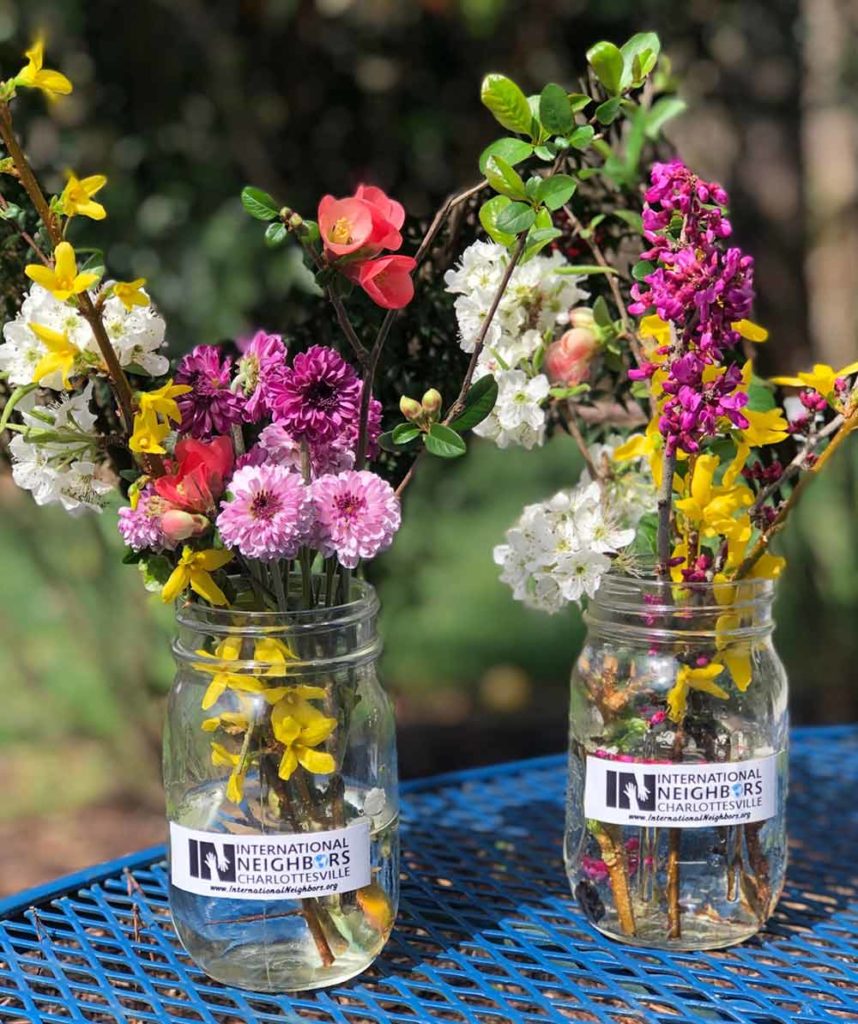 Dear Friends,
In the space of three short (yet long) weeks, our lives have changed dramatically. And, in light of Governor Northam's expanded stay-at-home order earlier this week, it is starting to sink in that this "new normal" is with us for at least the next two months.
It is hard to comprehend the impact that two or three months without income could have on the 257 refugee and SIV families currently in the International Neighbors network. And it is discouraging to admit that as a small, grassroots organization with only one full-time employee, we are not adequately equipped to address the enormity of the hardship our organization faces in this crisis.
As the impact of COVID-19 was just starting to take shape locally, and more of our refugee and SIV neighbors began reaching out for help and guidance, the question of how IN could respond to this crisis was weighing heavily on my heart and mind. Despair seemed to abound. So, I went for a walk in search of inspiration—and, to be honest, so that my kids wouldn't see me cry. When tears ceased, beautiful spring blooms filled my vision and provided the inspiration I had gone in search of.
But what could these flowers do to erase the very real fears that families were grappling with? How could they feed their children? How would they pay rent and utilities with no jobs, and a looming stay-at-home order? Delivering bloom-filled jars to the doorsteps of worried families couldn't solve any of these problems, but it could offer a reminder that our neighbors are not alone in this pandemic. We are all IN this together.
Yesterday was April 1st, a day most of our neighbors had been dreading. Rents were due, and people were unable to pay. While IN does not have a direct solution for the hundreds of families facing this problem, we want our clients, volunteers, and supporters to know that we are diligently working to ensure that our neighbors' needs are met. We are continuing our work by:
Advocating for fair treatment from landlords/management companies regarding rent payments
Helping neighbors access social service benefits, including unemployment
Connecting neighbors with local resources for food and funding
Fundraising to assist neighbors with urgent needs through the establishment of the Neighbor Needs Emergency Fund and to provide fresh produce with CSA shares from Bellair Farm
Applying for grants to sustain and strengthen IN's work as we prepare for COVID-19 recovery efforts
Adapting as an organization to find new ways to engage our volunteers and remain responsive to our clients while we must remain apart
There is much work to be done. With that being said, please don't ever feel that your personal efforts aren't enough because the package of diapers you dropped off for someone will eventually run out, or the gift card will only cover one meal for a family. No act of kindness is inadequate. No donation is too small. There is a cumulative effect of our collective efforts. It is called hope.
I want to thank all of the community partners, donors, volunteers, case managers, staff, and neighbors for the incredible generosity and sacrifice you have shown in these difficult days. We will be highlighting your acts of kindness—big and small—in the weeks to come. You give us all hope and inspiration. You are the bright spring blooms that lift our spirits in these dark times.
Stay well and stay connected,
Kari Miller
Founder & Executive Director