Crozet family delivers with second Change for Change drive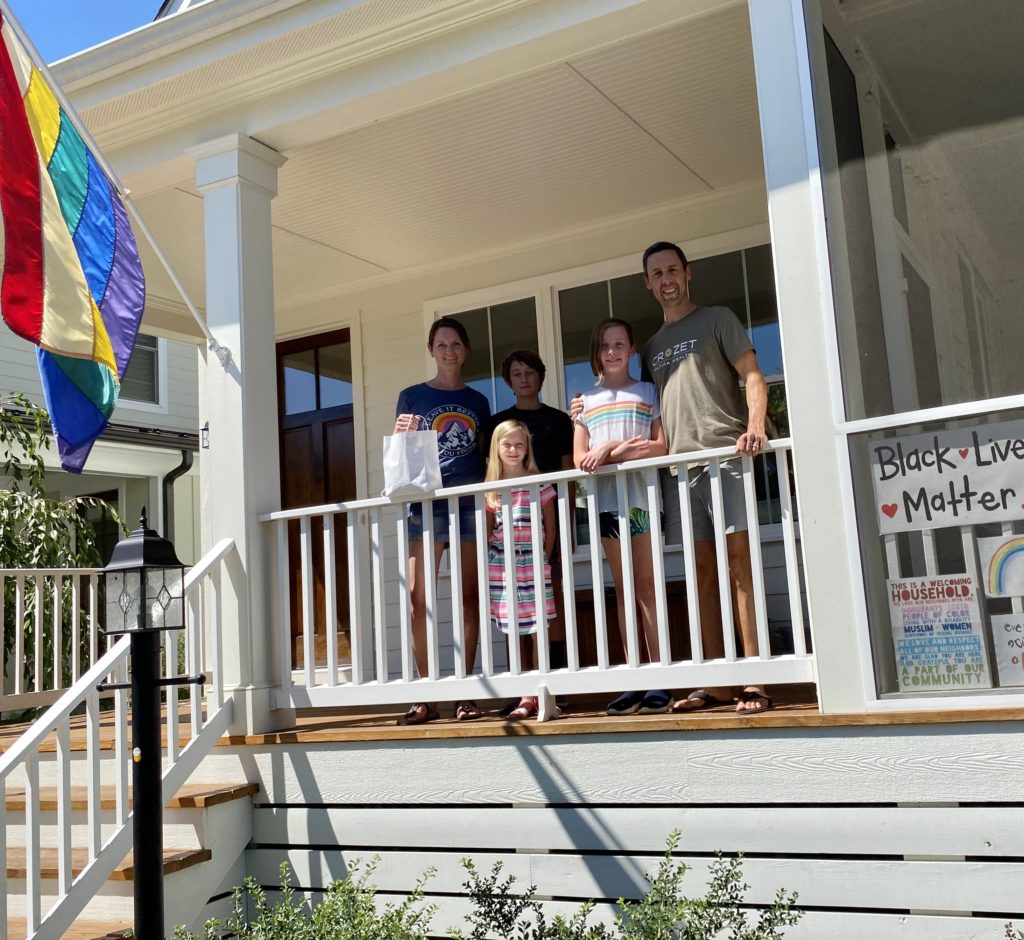 The Harris family of Crozet, VA, recently wrapped up their second successful Change for Change quarter drive for International Neighbors and delivered 12 gift bags—each filled with $50 in quarters, laundry supplies, and handmade greeting cards—to refugee neighbors in Charlottesville.
It all started last summer, when Sarah Harris saw a Facebook post about IN's Change for Change quarter drive to help refugee and SIV neighbors access the coin-operated laundry machines where they live—no easy feat during the pandemic and a national coin shortage. She posted on an Old Trail neighborhood Facebook group suggesting a community Change for Change drive, and offering socially distanced porch pick-ups for anyone who wished to donate. By mid-August, the family had collected 1,100 quarters ($275) to donate to Change for Change.
"Our refugee neighbors have so many other things to deal with in their lives that something as basic as having clean clothes to wear shouldn't be an issue," Sarah said when turning in the donation. "We just saw this as such a simple way to help."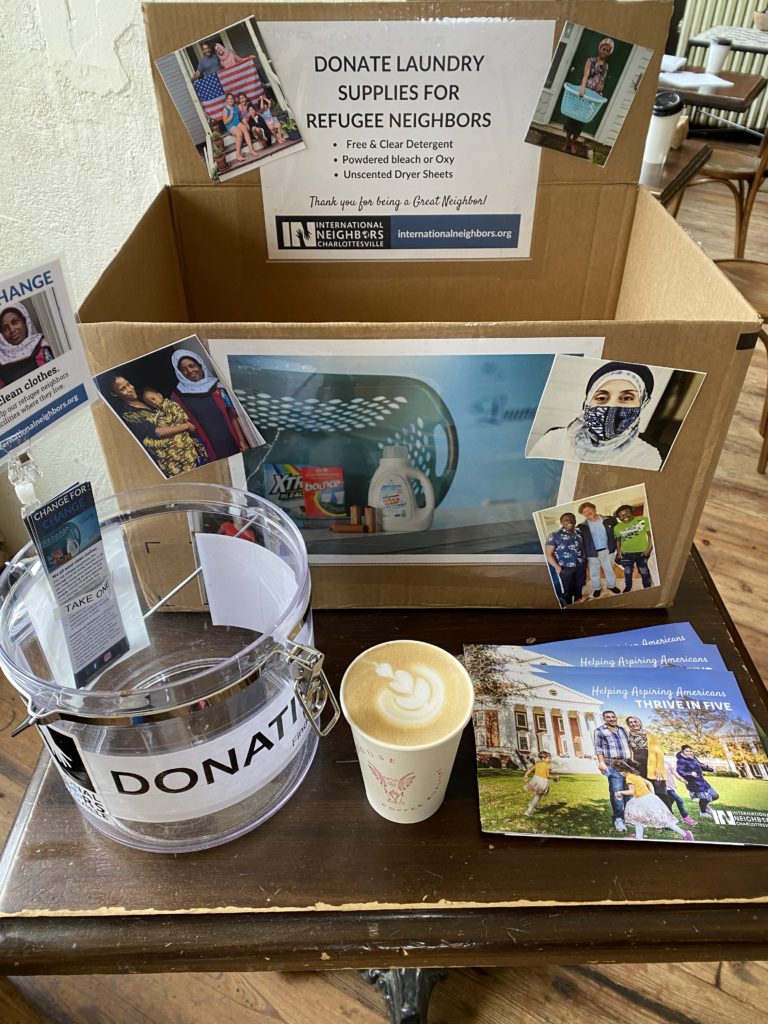 Fast forward seven months, and the Harris family was at it again—this time expanding the effort to three Crozet area businesses that helped collect quarters and laundry supplies throughout March.
"We have a strong community out here in Crozet and we knew they would come through with strong support for our international neighbors," said Sarah. "Our community partners, Grit, Mudhouse, and Crozet Creamery hosted our collection jars for over three weeks and lots of folks delivered laundry supplies, cash, and quarters directly to our porch."
Sarah's Instagram feed chronicled the drive's success—and the tremendous generosity of her Old Trail neighbors, including an extraordinary note she received from one donor: "My mom was so happy to hear about the quarter drive so that she wouldn't have to roll quarters and could know that my dad's big box of quarters was going to an organization doing good things and, in fact, directly to those who need it most."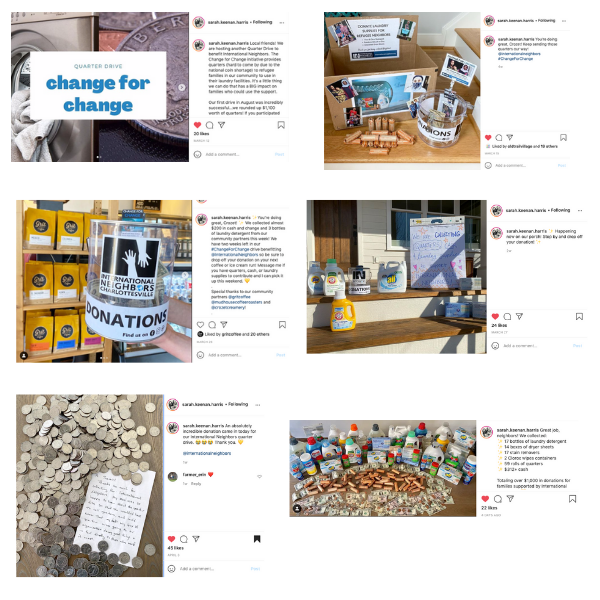 When the drive wrapped up the first week of April, the family had collected 60 rolls of quarters ($600), $338 in cash, 17 bottles of laundry detergent, 14 boxes of dryer sheets, and 17 stain removers—a total of more than $1,000 in donations—with the help of their generous Crozet neighbors! They had planned the end of the drive to coincide with spring break so the kids could make greeting cards and help shop for any additional laundry supplies needed to put together gift bags for 12 families. They delivered the bags, which also contained $50 in quarters each, to some very happy Charlottesville neighbors.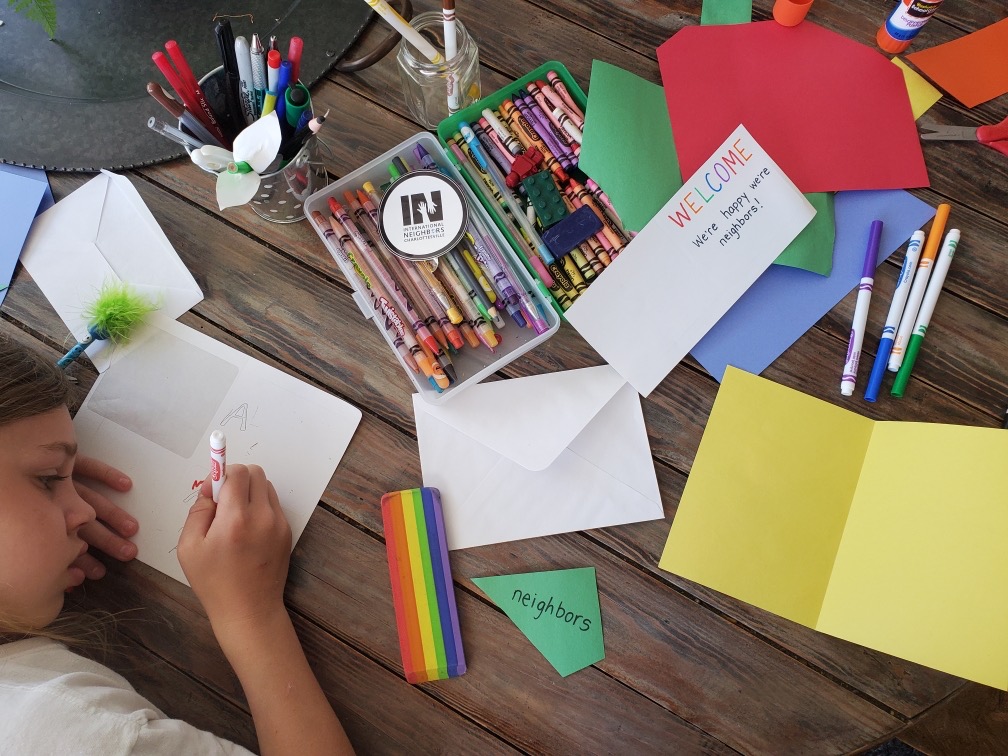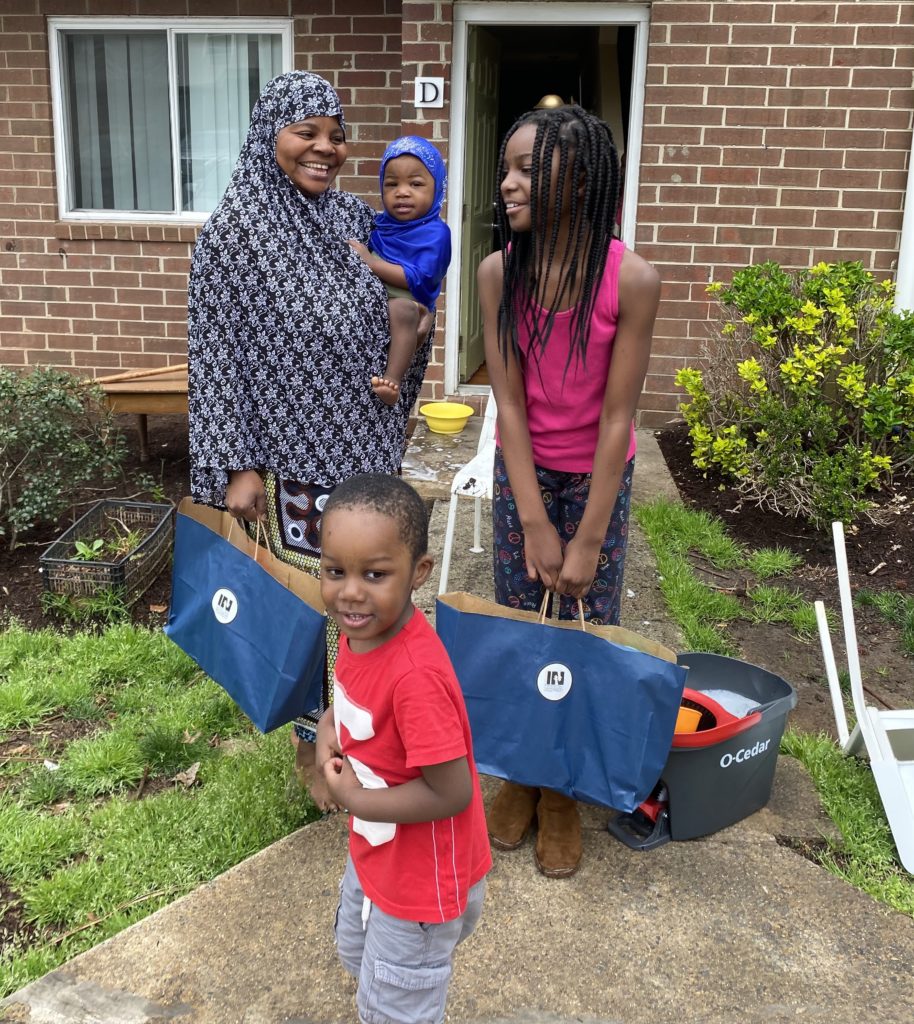 Sarah said it was a great way to finish the drive. "We were so happy to be able to make the deliveries so we could meet these neighbors—families who are supported in so many ways by International Neighbors and who contribute to the richness of our community by being a part of it."
We are so grateful to the Harris family for their enthusiastic participation in Change for Change—and for always being Great Neighbors!
If you're part of a family, neighborhood, business, club, church group, school, or any other organization that would like to sponsor a Change for Change quarter drive, please email Jennifer at contactus@internationalneighbors.org  for more information.