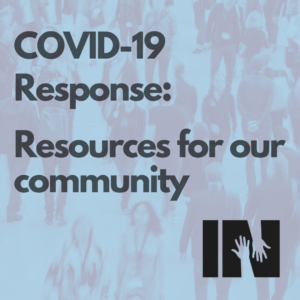 COVID-19 Resources
**UPDATED 5/23/20**
There is no doubt that the refugee and SIV population in Charlottesville is disproportionately affected by the continuously evolving COVID-19 crisis.
We recognize that many of the refugee families we serve will be affected not only on a health level, but on an economic and emotional level as well. The impact of fear, uncertainty, lost wages and a diminished ability to provide for your family is extremely trying. We know our refugee families have faced adversity before, but this can and will unlock trauma for many of them, compounding any challenges they were already experiencing.
Our team is putting together resources for our families who are English Language Learners and still somewhat unfamiliar with American culture. It is crucial that we support them in getting the best and most accurate information available. See below for updates on the ways our programs and community partnerships are impacted as well as information and resources in as many languages as we could find.
Update on Programs & Community Partnerships
International Neighbors continues to monitor the recommendations of federal and state agencies. IN offices continue to be closed, and staff are working remotely. Please see our ALL IN campaign for information on no-contact volunteer opportunities. Please also consider Sponsoring CSA Shares to help provide healthy food for refugee families this summer, or contributing to the Neighbor Needs Emergency Fund to help our neighbors with rent relief, medical co-pays, culturally appropriate groceries, and other essential expenses.
Until further notice, all in-person programs and volunteer activities remain suspended. This includes:
   

Volunteer visits to clients

   

Sewing classes at the IN House

   

In-kind donations of clothing, furniture, and household items
Any changes to this protocol will be announced here. Thank you for your cooperation as we all work together to slow the spread of COVID-19 in our community and protect the health of our clients, volunteers, and staff.
For the latest on programs offered by our community partners, visit their websites for the most up-to-date information: