COVID-19 Resources for our community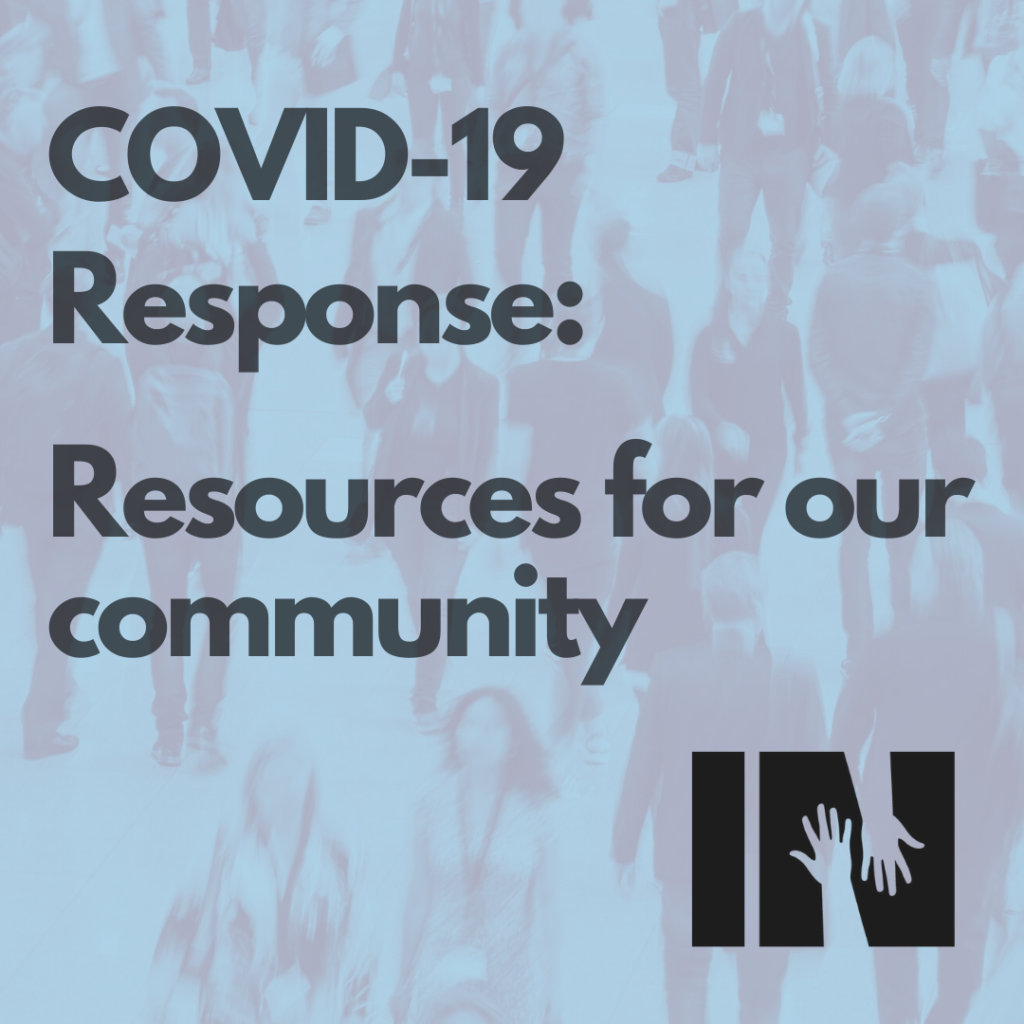 **UPDATED 4/3/20** There is no doubt that the refugee and SIV population in Charlottesville is disproportionately affected by the rapidly evolving COVID-19 crisis. The purpose of this page is threefold: (1) To inform International Neighbors' volunteers and clients of the ways our programs and community partnerships are impacted. (2) To offer our clients the most accurate and timely information, and in the greatest possible number of languages (check here frequently for updates). And, finally, (3) this unprecedented event creates a need that can only be addressed financially. We urge everyone who can to make a donation to the Neighbor Needs Emergency Fund described below.

In accordance with the advice of federal and state agencies, International Neighbors has made the difficult decision to suspend all programs and volunteer activity until further notice. Staff will be working remotely during this time, and IN offices will be closed.
For everyone's safety, we ask that volunteers refrain from visiting clients until further notice. Look for more information soon on how to best support our neighbors while we must remain apart.
Sewing classes at the IN House are suspended until further notice.
English classes at Friendship Court are suspended until further notice. And, currently, Friendship Court is not allowing non-residents on site.
The Great Neighbor Gathering scheduled for April 29th has been cancelled. It will be rescheduled at a later date.
In-kind donations of clothing, furniture, and household items are suspended until further notice.
Earlysville Exchange is closed until further notice. All previously scheduled shopping trips will be rescheduled once operations resume.
SOCA soccer league practices and games are suspended until further notice.
Thank you for your cooperation as we all work together to slow the spread of COVID-19 in our community and protect the health of our clients, volunteers, and staff.

We are working on putting together the most up-to-date and accurate information available about COVID-19 in as many languages as possible. Check here frequently for updates.
If you think you may have symptoms of novel coronavirus, contact your doctor's office. DO NOT GO ANYWHERE TO BE SEEN. CALL FIRST. Many of IN's clients are seen at the International Family Medicine Clinic. If you call there, you can ask for an interpreter on the line: appointments: 434-924-5348; daytime emergencies: 434-924-5340; after hours emergencies: 434-924-0000. The UVA Health Emergency Room phone number is 434-924-3627, also with interpreters available by phone.
COVID-19 Videos for refugees, developed by the Refugee Response and CC Cleveland, script vetted by the Ohio Department of Health
English: https://youtu.be/NSbeG1x9BLg
Pashto: https://youtu.be/0KKymmoU3v8
Karen: https://youtu.be/gUqr9iVb76I
Burmese: https://youtu.be/md6xDLo8hts
Arabic: https://youtu.be/xobF3Hv1tIg
Swahili: https://youtu.be/dCIRfAVDkQM

Fact sheets in many languages: https://www.doh.wa.gov/Emergencies/NovelCoronavirusOutbreak2020/FactSheet
https://www.health.state.mn.us/people/handhygiene/wash/fsgermbuster.html
https://www.kingcounty.gov/depts/health/communicable-diseases/disease-control/novel-coronavirus.aspx
https://www.orangecountync.gov/2355/Multilingual-Resources
https://mcusercontent.com/e46bc2a137f8fc2ebfa85179c/files/98f93134-519e-4387-8fe9-9b76d141a598/24_x_36_Poster_COVID_19_Dari_Farsi_Tigrinya.pdf
Arabic:
Burmese: https://drive.google.com/drive/folders/1TBKz9J2UY68wGufbKh2lcDlFPB2wh4Yc
Dari: https://drive.google.com/drive/folders/1TBKz9J2UY68wGufbKh2lcDlFPB2wh4Yc
Farsi:
Pashto: https://drive.google.com/drive/folders/1TBKz9J2UY68wGufbKh2lcDlFPB2wh4Yc
Swahili: https://drive.google.com/drive/folders/1TBKz9J2UY68wGufbKh2lcDlFPB2wh4Yc

A list of helpful resources in the community. These resources will be updated frequently. If you have information about any changes or suggestions of additions to this list, please write to contactus@internationalneighbors.org.
Getting food:
**NEW HOURS AS OF 3/30/20** Loaves and Fishes food pantry will distribute pre-packed bags of groceries from their parking lot on Wednesdays 2-4 pm, Thursdays 6:30-8:30 pm, and Saturdays 10 am -12 pm. If you are unable to pick up for yourself, but have someone who can pick up for you, please have them contact Loaves & Fishes to make arrangements. https://www.cvilleloaves.org/
For information about food access points for families during Spring Break:  Call Food Justice Network (CFJN), 434-260-3274, for student Spring Break meal questions; Emergency Food Network, 434-979-9180, for 3 days of shelf stable food (pickups on Mondays & Fridays)
Financial assistance:

The Charlottesville community has mobilized in a mass demonstration of mutual support. Our natural instinct is to be present with one another, to go to our neighbor's side to offer help. We are all struggling with the new reality of social distancing. We'll be exploring ways to stay connected in this space, and on our social media accounts. Let's get creative!
The most important way we can help our neighbors right now is financially.
Our refugee and SIV neighbors are especially vulnerable at this time. Many families will lose their only source of income for as long as this crisis persists, and their need for financial assistance is urgent.
Please give what you can to the Neighbor Needs Emergency Fund to help our neighbors with rent relief, medical co-pays, groceries, and other essential expenses during this unprecedented social crisis.