20 Reasons 2020 Wasn't All Bad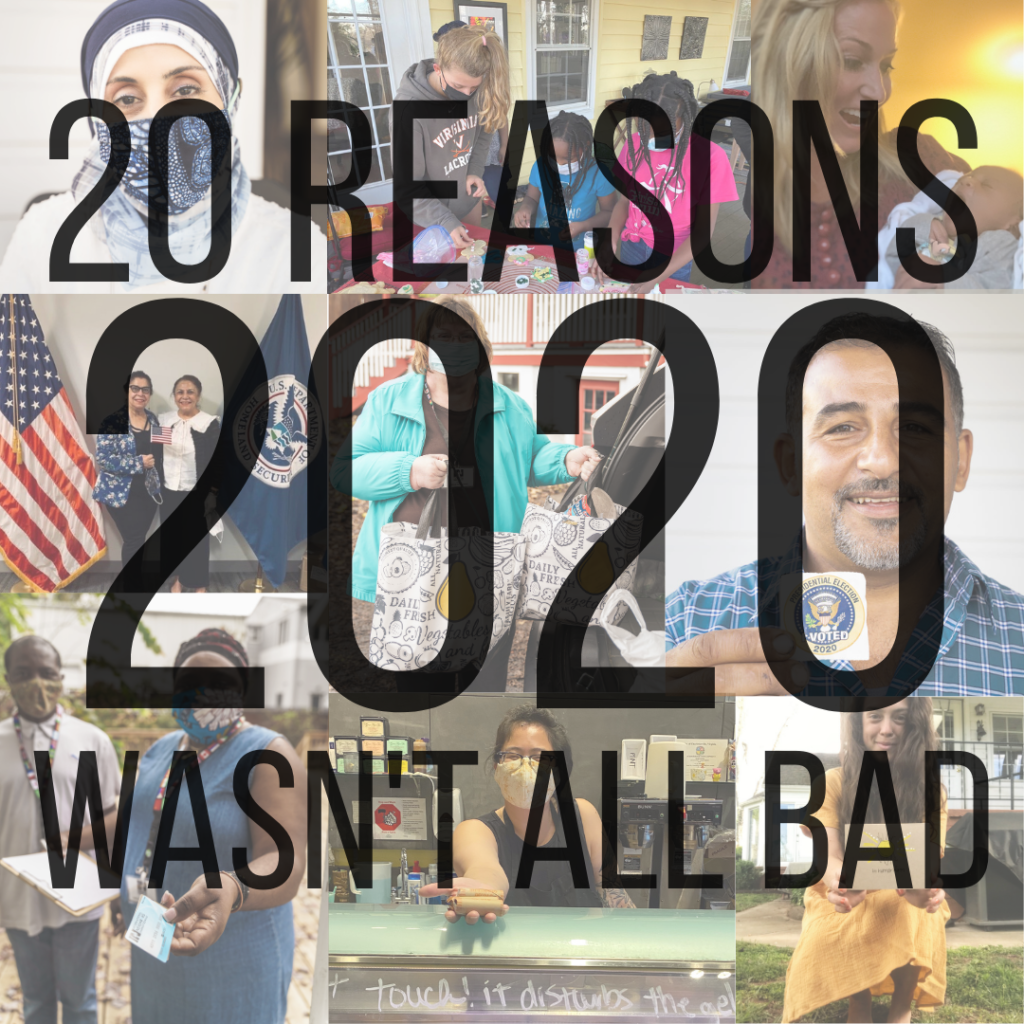 There's no doubt about it, 2020 was a tough year. While we're certainly not sad to see it go, a few things happened at IN last year (doesn't it feel good to call it "last year"!) that made us happy—and even proud. Here are a few reasons 2020 wasn't all bad.
Reason No. 1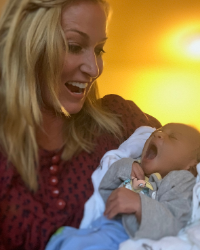 Baby Marcel Miller was born to proud parents Mimy and Jean Fidéle. (Pictured here with his namesake, IN's Kari Miller)
Reason No. 2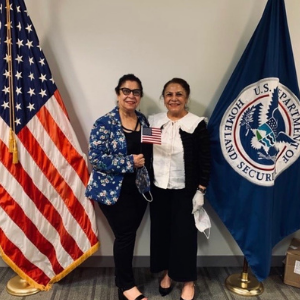 Two sisters from Iraq, Nibal and Nihal Al-Rawi, became naturalized citizens in August.
Reason No. 3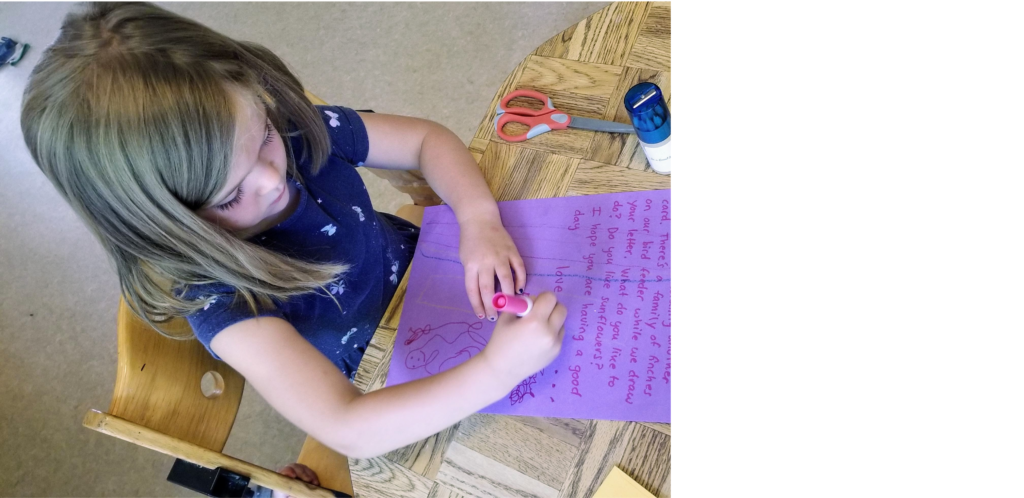 IN launched the ALL IN Pen Pals program in June. Eighteen families signed up for the first cohort, which paired 35 kids as pen pals. The program was put on pause for a bit when remote learning access came to the forefront, but a comeback is planned early in the new year (stay tuned)!
Reason No. 4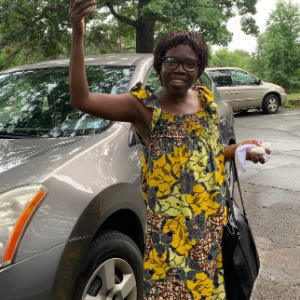 Four vehicles were donated and assigned to families who are now able to drive to work, the grocery store—or anyplace they need to go!
Reason No. 5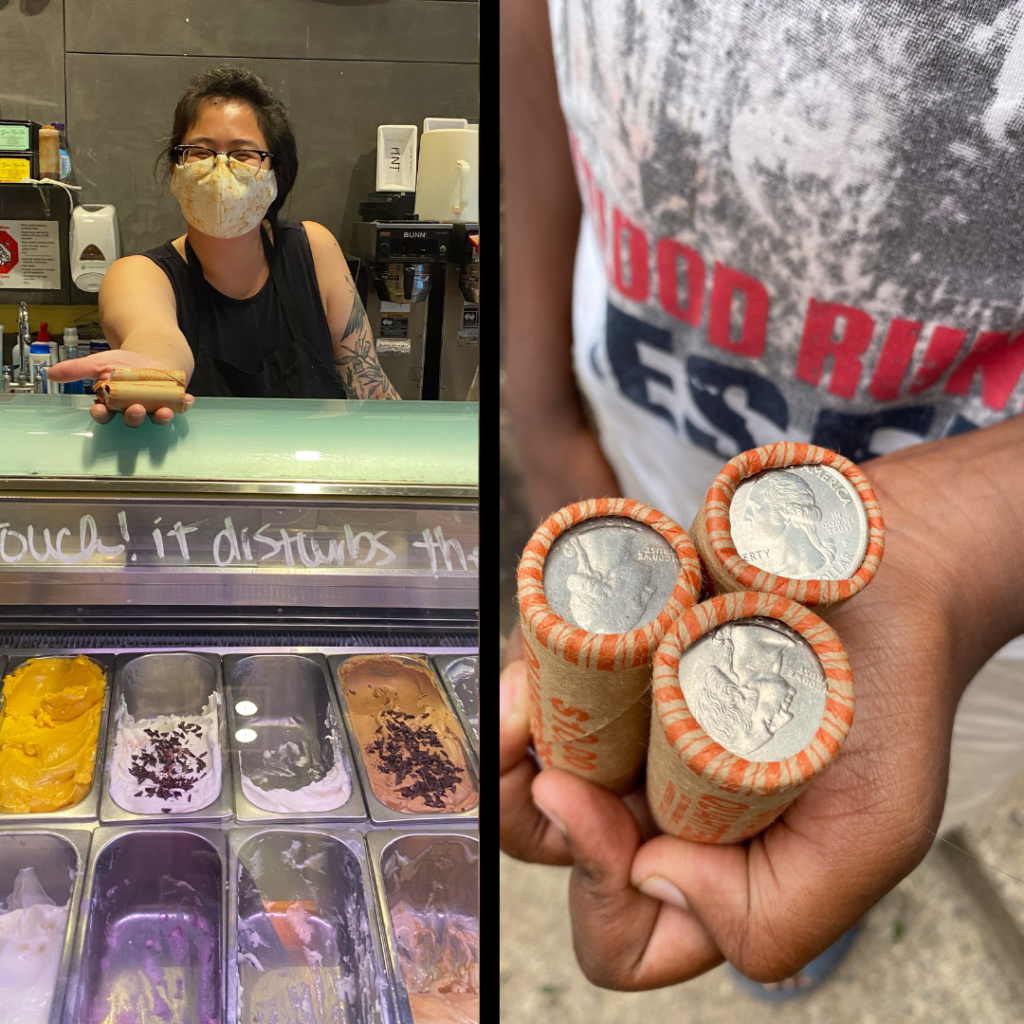 IN's Change for Change quarter drive drew support from more than 20 local businesses, churches, and other organizations that hosted collection cans. An Old Trail family held a door-to-door collection, and individuals brought us the change they've been collecting in jars at home. Volunteers helped count and roll change, shop for laundry supplies, and distribute more than $3,000 worth of quarters to help neighbors access the coin-operated laundry facilities where they live.
Reason No. 6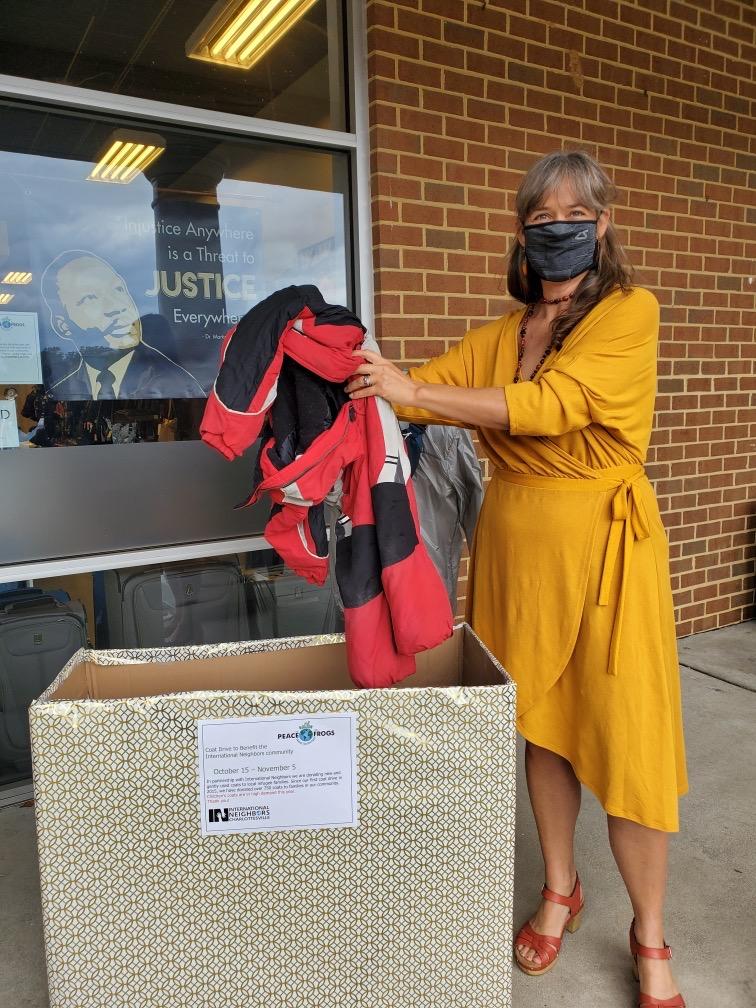 Coats galore! Peace Frogs Travel Outfitters' 6th Annual Coat Drive collected more than 700 new and gently used coats; and 100s more coats came from Lila Castleman's bat mitzvah project coat drive. Amazing!
Reason No.7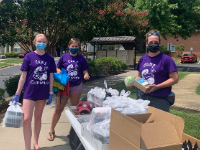 Summer fun still happened! Camp Corwith came to kids, delivering 128 meals (in partnership with Keevil & Keevil) and activity kits; and Fry's Spring Beach Club invited 30 IN campers for a week of fun.
Reason No. 8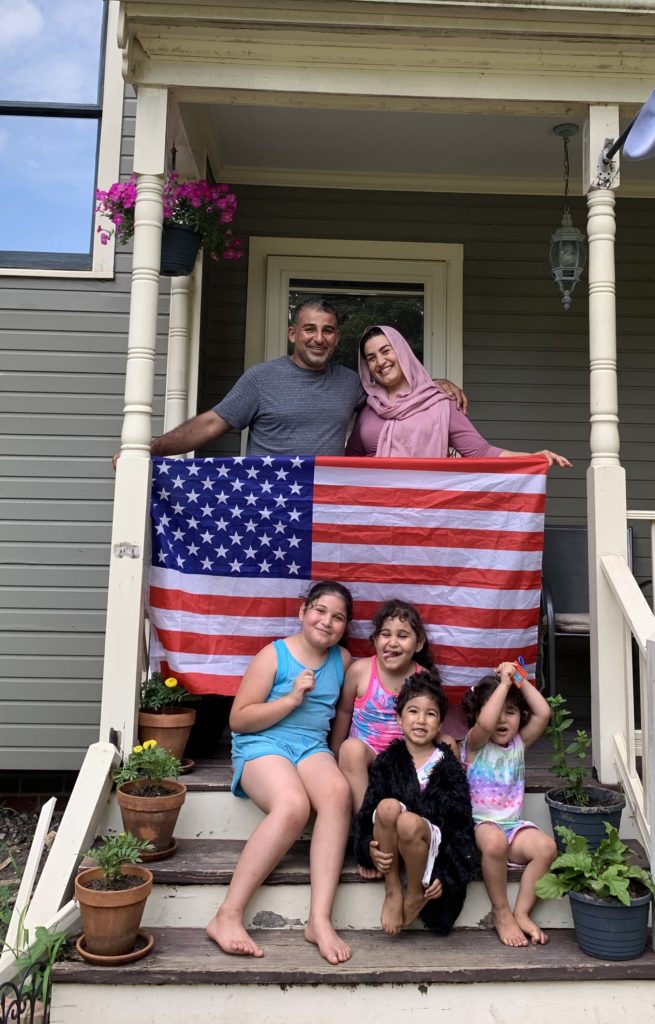 Five IN families became homeowners in 2020, including the Mikhlifs (pictured here), whose story is featured in our Annual Fund Drive booklet. You can find a digital version here.
Reason No. 9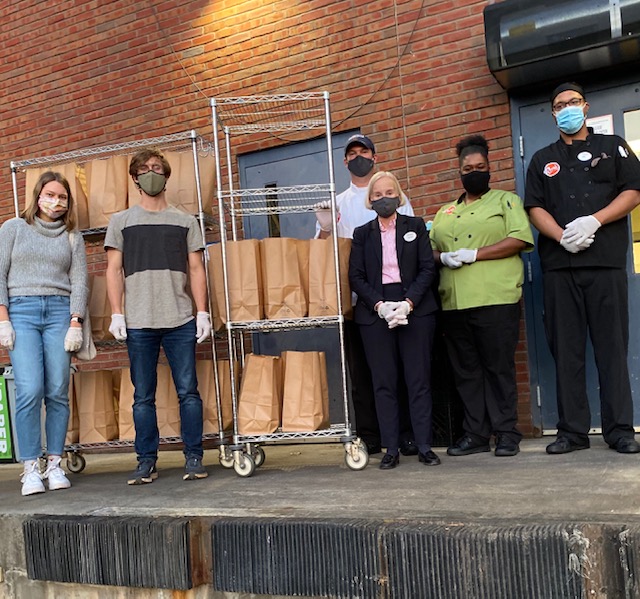 IN's amazing intern, Ben Gustafson, teamed up with UVA's Runk Dining Hall and volunteers from the Student Covid Coalition to deliver 1,200 meals to IN families fall semester! Talk about Great and Good!!
Reason No. 10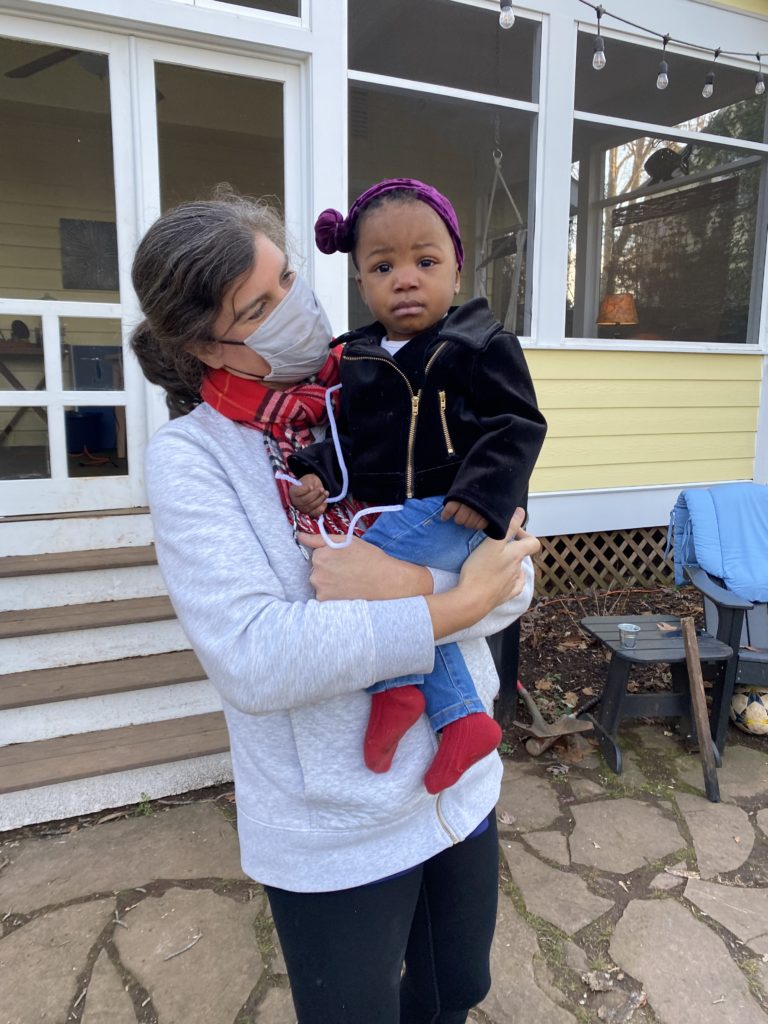 Two new Great Neighbor Guide matches paired community members with new arrivals to provide friendship and guidance as newcomers get to know their new community. More than 30 existing relationships provided crucial phone support or physically distanced visits during the period of social isolation we all experienced.
Reason No. 11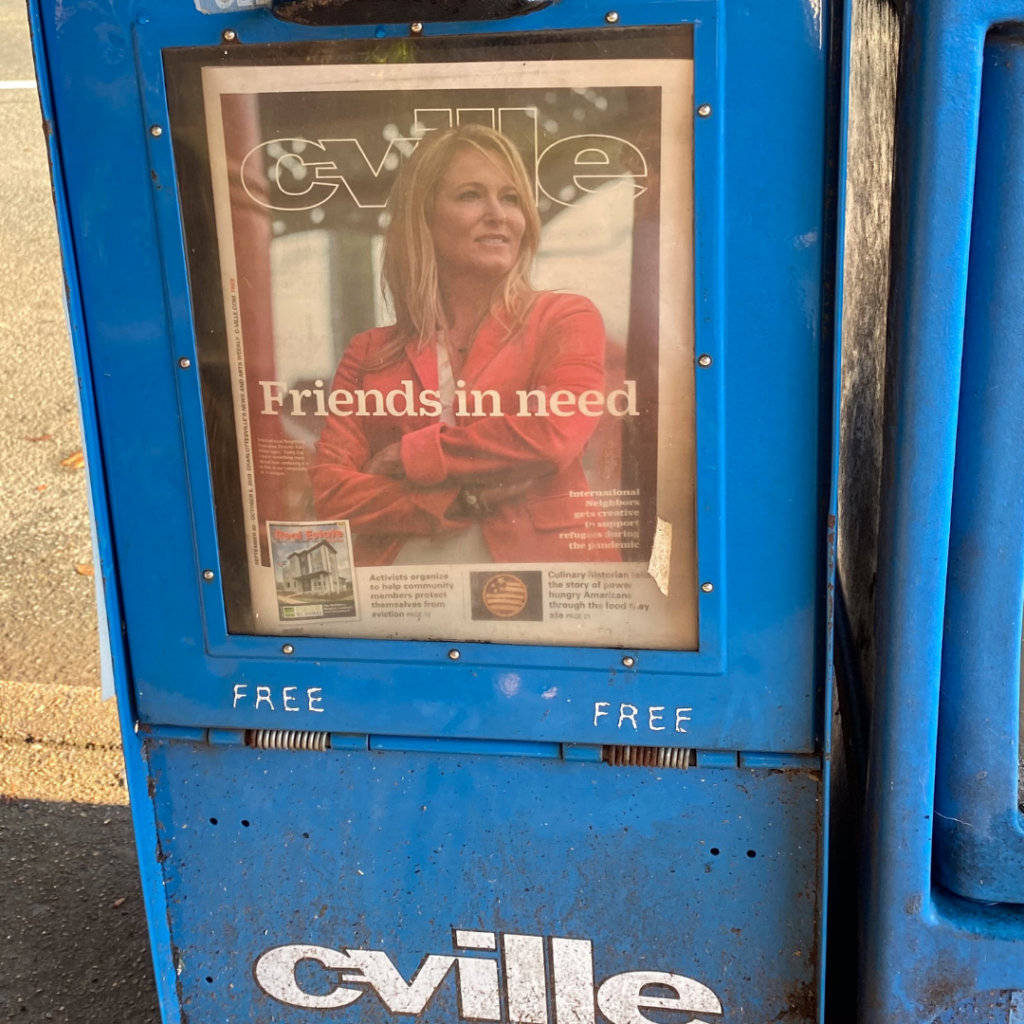 We made the cover of C-ville Weekly with coverage of our pandemic response, our learning pods were featured in a Slate article, and The Washington Post focused on IN client, case manager, and board member AJ Mikhlif in a story about new Americans voting for the first time. See more of our 2020 press coverage here.
Reason No. 12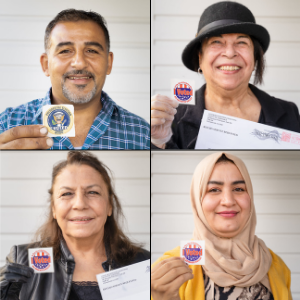 Several IN clients proudly voted for the first time as new Americans in November's presidential election, and IN volunteers and staff offered rides to ensure they all got to the polls!
Reason No. 13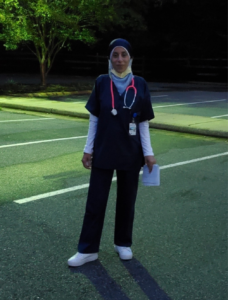 Although the vast majority of our client households experienced job losses and income reduction in 2020, several neighbors successfully completed certificate programs, earned degrees, started a business, or began a new career. Dareen Aloudeh (pictured here) completed a one-year Practical Nursing certificate program at PVCC this summer, and earned her nursing assistant aid (CNA) and GED diploma this fall.
Reason No. 16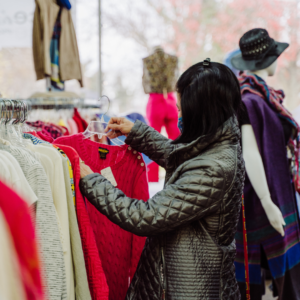 In October, we began a partnership with Twice Is Nice that allows two IN clients a month to shop with $50 vouchers. TIN joins our other amazing resale partners, Earlysville Exchange and Kid to Kid, to provide shopping opportunities that help new arrivals find the clothing, furniture, and housewares they need to feel more at home.
Reason No. 15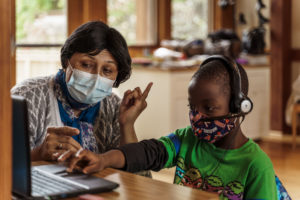 Our most ambitious pandemic pivot—providing access and support for online learning—took a lot of teamwork: A volunteer secured a grant from the National Parents' Union that allowed us to hire temporary staff and establish three learning pods at two locations—Charlottesville Friends Meeting and the IN offices—in September. Two more pods began at Westminster Church in December. In November, a CACF grant enabled us to provide more support for families struggling with online learning at home. Additional support from generous donors helped us provide transportation to learning pods, purchase snacks and supplies, and cover other expenses.
Reason No. 16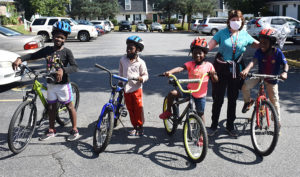 Bicycle happiness! Our partners at Community Bikes provided new rides for four siblings from one of our learning pods. Learning pods supervisor Susanne Sachs gets all the credit for going the extra mile to make these kids feel welcome and loved!
Reason No. 17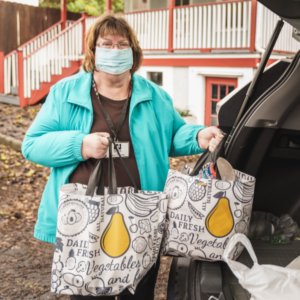 Volunteers like Amy Long (pictured here) found new ways to help neighbors from a safe distance. Learn more about how Amy served as a proxy at Loaves & Fishes Food Pantry and delivered food to neighbors' doorsteps in a beautiful video produced for IN by Gentry Faith Films.