Empowered People Empower People
Annual Fund Drive 2022
Letter from the Founder, Kari Miller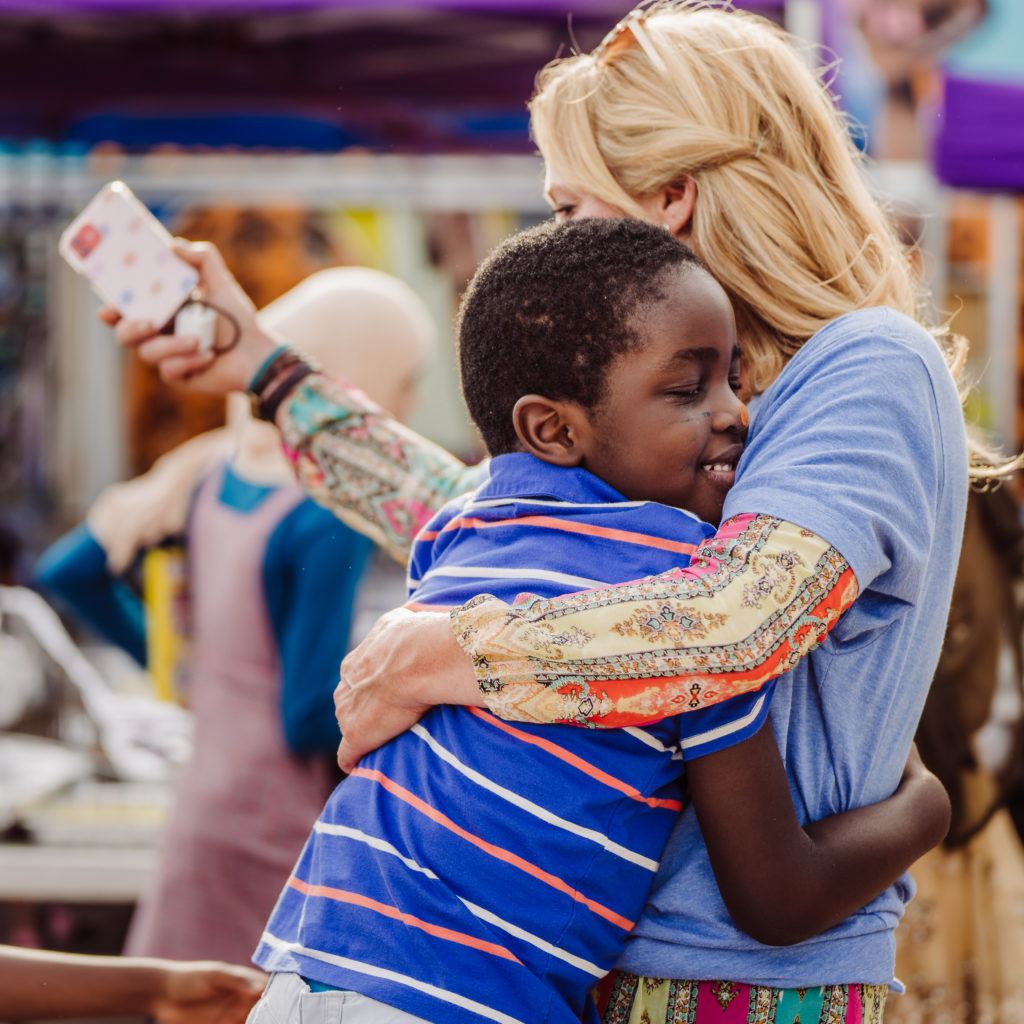 Dear Neighbor,
As 2022 comes to a close, we have much to celebrate at International Neighbors! In addition to over 5,000 volunteer hours and eight donated vehicles, we've paired 19 Great Neighbor Guides with newcomers to welcome them to their home in Charlottesville. We continue to make it possible for dozens of children to have a ride to school despite the city's bus driver shortage, and we hosted over 500 community members at our annual World Refugee Day, solidifying relationships between people of different countries and ethnicities. These relationships are what really make a difference in the lives of refugees and SIVs from places including Afghanistan, Iraq Syria, the Democratic Republic of Congo, Burundi, and Ukraine.
One neighbor from Iran said, "International Neighbors is the organization that treats everyone with respect. They believe that there is value in every person." With your support, we can create a welcoming community where newcomers benefit from food security, proper clothing, access to medical care, and have no fear of being evicted from their homes as they work to establish a new life. Please consider a tax-deductible donation to International Neighbors so that we may continue to improve our community, one neighbor at a time.
A Message from our Outreach and Program Manager, Khatool Masoudi
As clients of International Neighbors, our family received support that gave me the strength and courage to keep moving forward. To know that International Neighbors was working alongside us and the community really touched my heart. I saw this small organization help refugees from all over the world who are new to Charlottesville, yearning to move from surviving to thriving.
With the help of International Neighbors, my family did just that. I am proud to be writing this now as an IN Staff Member—Outreach and Program Manager—and have enjoyed my roles as case manager for Afghan women, volunteer, board member, and donor.
Through International Neighbors, I see how empowered people empower people. I was inspired by Kari Miller, and now I am the inspiration to my neighbors, like Hilay. Hilay lives with her beautiful 7-year-old daughter. When she was referred to International Neighbors she was desperate, worrying about rent and utilities. She received full assistance from International Neighbors, and her life changed. Hilay was paired with a Great Neighbor Guide who visited each week, helping Hilay acquire English skills. It is a beautiful thing to see this mutually beneficial relationship between neighbor and guide. When we had a birthday party for Hilay's little girl, her Great Neighbor Guide was there to celebrate too. Hilay said to me, "I have never celebrated my daughter's birthday before." International Neighbors made that happen. Hilay told me, "Khatool you are my inspiration. Because of your introduction to International Neighbors, I am an independent and strong woman. I received my driving license. I have a job, and I am going to further my education and English skills."
This organization changes lives.
Please join me today by making a financial donation to International Neighbors! I know firsthand that your gift will help refugees and SIVs living and working in our community to THRIVE.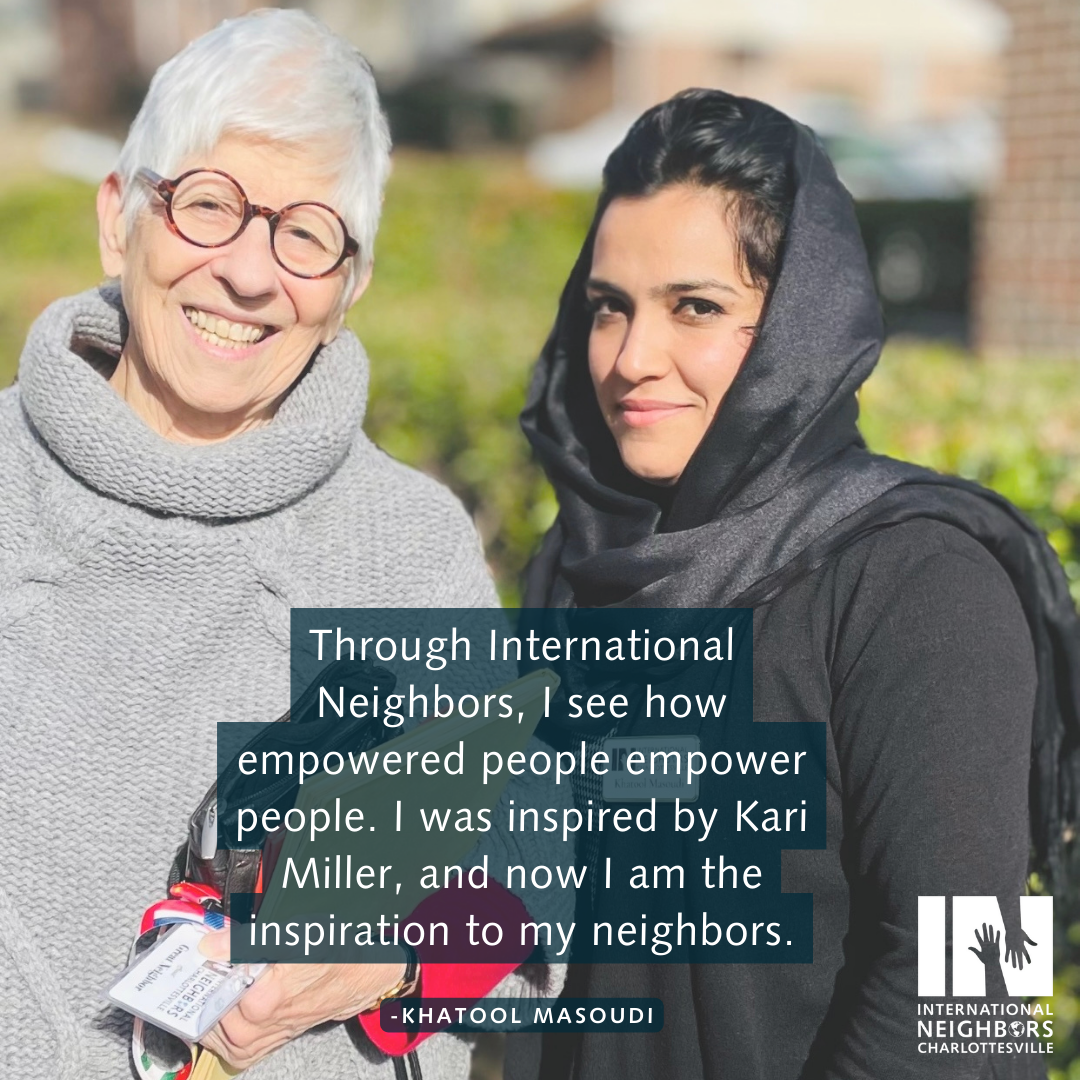 We hope you too will become invested in us!
Please help us

 achieve our Annual Fund goal of $100,000 so that everyone can be equipped to thrive in Charlottesville.
Through your generous support, we at International Neighbors are able to offer a variety of program services to refugees and SIVs that go beyond initial resettlement. Learn more about our program work.
Accomplishing more together in 2022....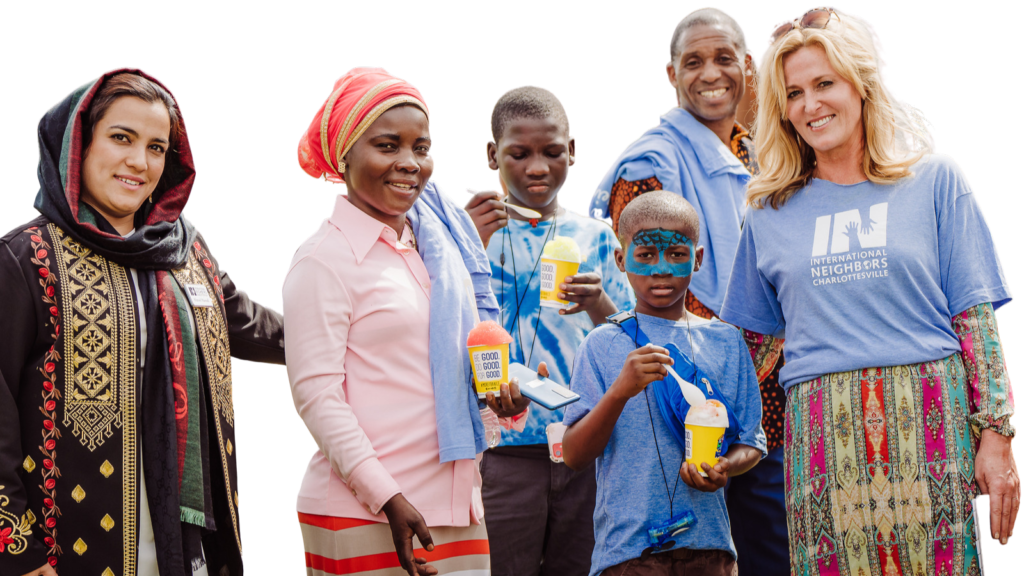 Thank you for investing in US!
Your donations directly impact the lives of neighbors in your community.